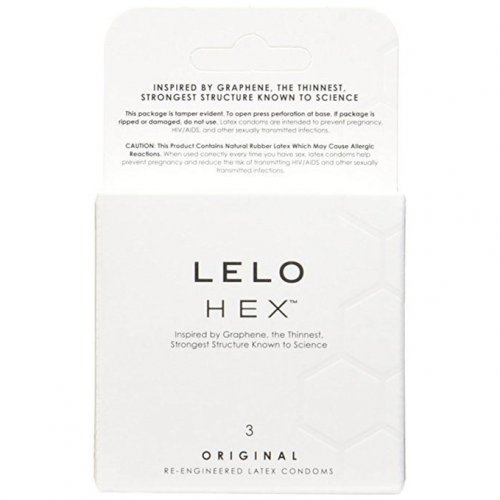 Lelo: Hex Condoms - 3pack
Made By:
Lelo
---
View Additional Images
---
---
Wearing is caring!
Try the most talked about condom in history and feel the difference for yourself. Lelo Hex Condom delivers strength, thinness and sensation through its revolutionary hexagonal structure. It's the first major innovation in years, and the media all over the world is calling it one of the most important advances in condom technology for decades.
Natural latex
0.045mm thin, 54mm diameter e or approximately .018 inch, 2.12 inches
Lightly lubricated: added comfort with premium lubricant and fresh, clean scent
Tailored fit
Formed for intimacy with flex points that mold to wearer
Vital statics: pleasure and safety through Innovation. The honeycomb structure reduces slippage, in the same way a wet weather tire grips the road. Strength and thinness combined: Hex is structurally different because it applies a unique hexagonal web throughout the latex. Customized fit for comfort. The unique structure molds to the man for a sensitively tailored feeling. Strength: no compromise Hex condom structure for thinness and strength. Thinness: designed to minimize slippage and maximize sensitivity
Product Details
Box Dimensions:
Length: 4.00 in.
Width: 2.50 in.
Depth:0.75 in.
Weight: 0.0500 lbs.

Manufacturer Code: LE2470

---
Customers Who Bought This Product Also Bought